Employees
It allows the registration and viewing of employees on different departments, within the company.

It allows the setting of work information or private information of the employees.

With this module you can set a unique code or badge for each employee for check-in or check-out operations.

It allows the visualization and management of the employees by connecting with the module Attendances.

With this module the employees can be grouped hierarchically, according to function and / or department.
Overview

Employee information within your company can be recorded / modified / deleted. An overview of your employees is available for effective management.
Also, here you can see, in real time, the employees working at the moment.


Table view

Allows the recording / modification / deletion / monitoring of employee information in tabular form.
The information is rendered in a more concise form.
To extract information, custom filters can be created according to the employee, group of employees, date or based on time intervals.
Hierarchical view

The module allows you to view the hierarchical order within your company.
Thus, it can be clearly seen which employee is subordinated to another employee or to the company administrator, depending on the occupation and / or the departments to which they belong.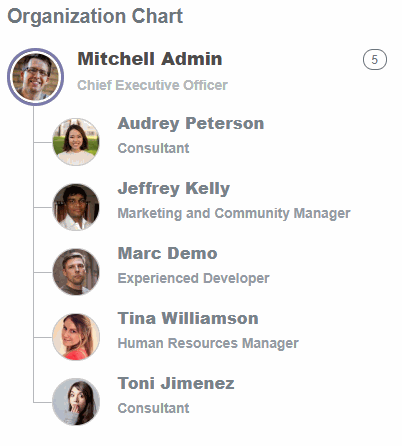 Registration of an employee

This module allows you to register an employee using a form. You can record employee work information such as job function, job, email, phone number, etc., as well as personal information such as account number, address, personal identification number, etc.
These details can be set by the administrator to be visible or not to the other employees.
The module also allows the creation of labels applicable to employees.